I am trying to think spring even though is has been drizzling all day and the grayness is so thick it doesn't seem like daylight ever arrived! My children had a favorite Toot and Puddle book when they were younger that described this as "mud season" – that necessary time before the spring begins to arrive and the snow is melting ever so slowly and the whole world is wet.   I spent the day working on a spring coat – info on that coming next week, but wanted to type up a review of Simplicity 2702.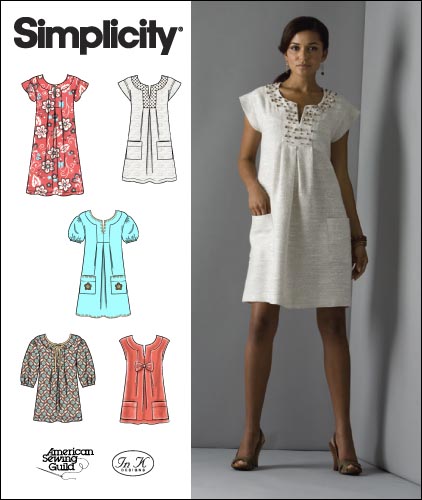 I made this tunic, View D, last spring and just never got a blog post done. It is a great transition piece and carried me through many of those in between days. I made it from Blue Danube Rayon Paisley fabric from Pink Hollybush, it was great to just throw on with a pair of khakis and was as comfortable as can be.
Here is a close-up of the neck-line. The pattern is straight forward and easy to follow.  It is a great pattern to try when you need something that doesn't require a lot of fitting finesse! I made the size 10 with no adjustments. My only caution is that there are 7 inches of ease in the bust!  The picture of the model on the cover makes it look like it is more fitted than it is. This ease is of course, why you don't need to worry about fitting issues, but I don't think I would like this pattern made in any type of even slightly crisp fabric. If you just want a top to throw on and go during the spring in a rayon, cotton voile or gauze – this is the pattern for you!